All Over Printing and How it Works
Updated a year ago
Image Credit: ebay.com
Printing Categories used for Quadra Products
All the Products in the Quadra App's catalog have different styles of printing. If you would like to see what type of printing will be used on the product you would like to launch, first select the product from the product catalog. Selecting the product will bring you to the product details page. Located under the product name is the print type. Image A-2 shows an example.
All the printing is done automatically for you and there is no way to change print styles on each product, but if you would like to know more about the way your products will be printed we invite you to read our articles regarding the different printing processes. This article will cover all over printing.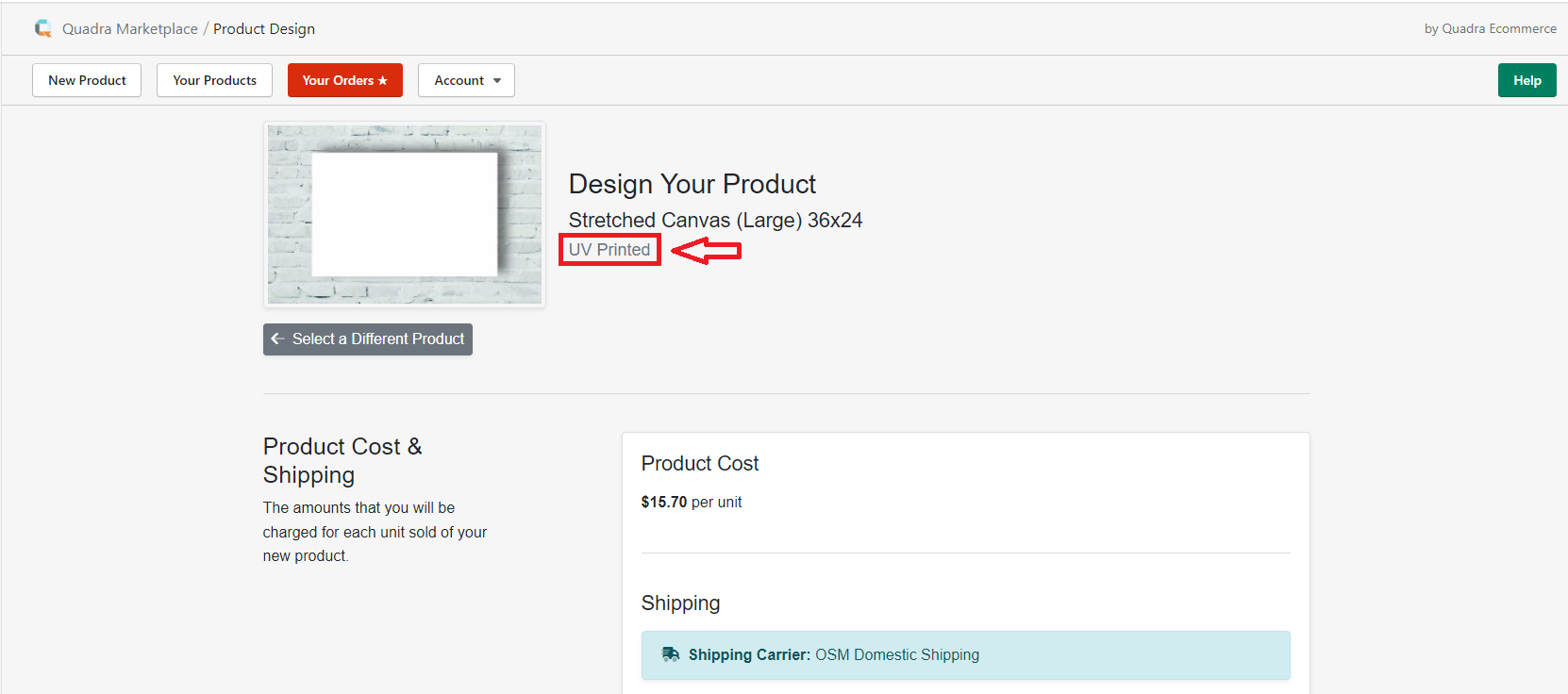 A-2
What is All Over Printing?
The world of print on demand has changed so much in recent years, all over printing is just the next step. With most printing processes only a portion of the garment is printed with a design. With all over printing, as the name suggests, the design is printed over the entire garment.
The more traditional way of achieving this is to print the repeating design on the fabric before it is cut and sewn, and in large scale operations this is the more effective rout to take. But print on demand has never been about the bulk operations, which is where all over printing comes into play.
From direct to garment printing to heat transfer printing, it is possible to do all over printing. However, the two most common processes used for all over printing are large screen printing and dye sublimation.
In all over printing the garment has already been cut and sewn before the design is printed onto it. Because of this it is important to note that there are going to be areas of the fabric that do not get printed on at all. These areas include the seams of the garment, any creases that were missed during the printing and, in the case of a t-shirt, the arm pit area. Given this, all over printing may not be right for every product.
Image Credit: printrenegades.com
How does All Over Printing Work using Large Screen Printing?
Screen printing is a process that pushes ink through a screen and onto a garment, imprinting it with a design. Typically screen printing uses smaller screens to do the printing on, but some manufacturers will have availability for large screens to allow for all over printing. These screens are big enough to fit the whole garment under and allow a design to be printed over the entire thing, one side at a time. The other difference when doing all over printing is that the screen will actually be touching the garment, this differs from typical screen printing which requires a few millimeters between the screen and the garment. The all over screen printing can either be done by hand or using an automated screen printing machine.
The benefits of screen printing are that is it a fast option and is cheaper when ordering several of the same design at a time. However, screen printing can get pricy if your designs include multiple colors, as each color requires its own screen.
Click Here if you would like to learn more about the screen printing process.
Image Credit: pinoydeal.ph
How does All Over Printing Work using Dye Sublimation?
Dye sublimation works by transferring ink from a dye sublimation paper to a polyester material using heat. The dye sublimation ink is designed to move from a solid to a gas without becoming a liquid. This makes it so the ink can infuse into the polyester of the garment, leaving no texture behind. The dye sublimation process for all over printing uses the same process as with smaller designs, the difference being the size of your printer and heating press.
The benefits of using dye sublimation are that you can have as many colors as you would like on your design and, due to the sublimation process the design is just about as durable as the fabric itself so there is never a need to worry that the design will fade away. Dye sublimation also uses a digital design, making it ideal for more complex designs were precision is a necessity. Dye sublimation is, however, a more expensive option if your design only has a few colors and doesn't need that digital printing for details.
Click Here is you would like to learn more about the dye sublimation process.
---
Check out these videos if you would like the see the process in action!
All over screen printing:
Video Credit: fourambition
All over dye sublimation printing:
Video Credit: OneOffApparel
---
Haven't created your Shopify store yet? Click Here to get your store set up now!
Not yet a Quadra Pro subscriber? We have a FREE masterclass that will teach you Print On Demand basics and a special offer included at the end. Click Here to sign up today!
Interested in a database of POD ready designs? We recommend using Creative Fabrica for thousands of designs, images, and fonts. All come with a sales license. Click Here to check them out!
Was this article helpful?